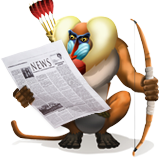 Download Baboon Press Kit (zip, 1.5 MB)
Factsheet
Product:
Wildlife Game in AppStore
Price: Free
Launch Date: September 12, 2013
Platform: iOS
Location: New York, NY
Contact: Michael Sarill
Email: michael[at]baboongame[dot]com
Phone: (415) 390-6408
Website: www.baboongame.com
Team
Baboon - Wildlife Game
Baboon is a point-and-shoot action iOS game where players must protect stampedes of wildlife from pesky poachers.

From rhinos and elephants in the jungle to polar bears in the Arctic, baboon must ward off mischievous poachers and save his jungle mates. Motorcycles, helicopters, cannonballs and jump-stilts are among the poacher's sneaky attempts to dodge arrows.

Dynamic wildlife stampedes, dodgy poachers, exceptional graphics and casual point-and-shoot-gameplay all come together for a magical gaming experience.

Baboon has reached over 22,000 players organically through little-to-no marketing spend!

Baboon is a studio-caliber game produced by a small and passionate team. Our indie title has no outside investors or publisher.
The Story behind Baboon
Baboon was founded in October of 2012 by Michael Sarill. His first recruit was the exceptionally talented game artist, Jiyoun Lee-Lodge. With no outside funding or investors, they worked together for 6 months exclusively on character development, illustratons, habitat design and game art. The primary game design goal was to produce a timeless visual identity that connected emotionally with players in a powerful way. Character illustrations were to be fun and engaging, while staying as realistic as possible.

Veteran gamer, Justin Jordan, rounded out the team as the Level Designer. Justin created thrilling waves of wildlife and poacher rushes that keep players on edge. Each habitat has it's own unique story and cast of wildlife characters. Habitat level experiences were crafted with deep thought and storytelling.
In October of 2013, after over a year of game art, development and level design, the team launched their signature mobile gaming title on the iOS App Store!

Baboon has organically reached over 22,000 players with little marketing spend.
Launch Trailer
Gameplay Videos
App Store Screenshots
Download App Store Screenshots (zip, 495k)